The Woodside Building is about to open!
You are here: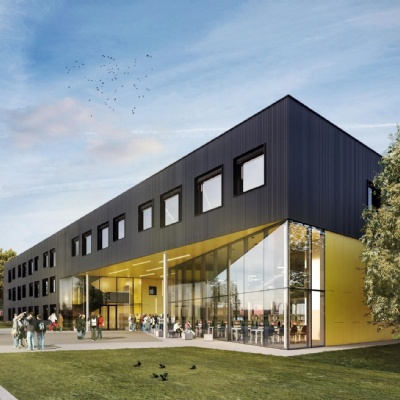 Hello Woodside, goodbye Fowler!
The Woodside Building and Orchard Library is the name of our new teaching block. We have drawn on the School's history to choose the name. Wexham was created by the amalgamation of Woodside County Secondary School and The Orchard County Secondary School in the 1990s. Looking east out of the new building you really get the feeling of being in the countryside as all you can see is trees, so the name Woodside is quite fitting and complements our green and spacious campus setting.
Our English, Humanities, SEN and Languages Departments cannot wait to move in. Our new superb library will provide a wonderful learning space. These will give our students an excellent learning environment and will complement our fantastic PE and Creative Arts facilities. We will also be opening in our existing modern Science and Technology block two superb new science labs, created from the old library.
Thousands of students over the years have been educated in our existing Fowler Block which is now long past its life. We will all be saying an equally pleasing farewell when it is demolished in October!
Thank you Slough Borough Council for this amazing investment in the school and the children we serve.