Inclusive Zone Basketball
You are here: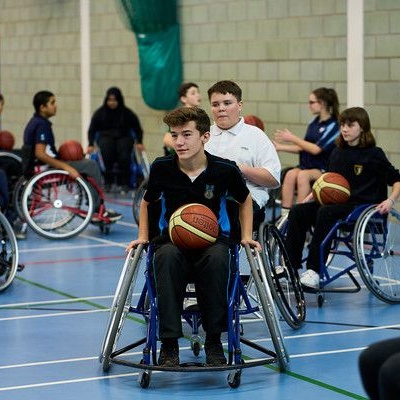 This week a group of our Year 9 students attended an 'Inclusive Zone Basketball' competition hosted by the Slough School Sport Network at Westgate School. There were ten teams from five schools across Berkshire participating and it was a fantastic experience for our students to meet new people, broaden their experiences and add value to a rounded education that reaches beyond classroom lessons.
Inclusive Zone Basketball is a 4-a-side game, with the court divided into three zones. Running players play on the wings and wheelchair players play in the centre.
The aim of the day was to introduce this new activity to students and allow them to experience competitive, inclusive wheelchair sport in a supportive environment. The morning consisted of technical development and practice, and the afternoon was all about friendly match competition. Our students certainly enjoyed their experience and now want us to purchase our own chairs so we can run a wheelchair basketball club at Wexham.
Thank you to Westgate for hosting and to the Slough School Sport Network and Arbour Vale School for organising this event.