Students brighten up Wexham Park Hospital with jungle art
You are here: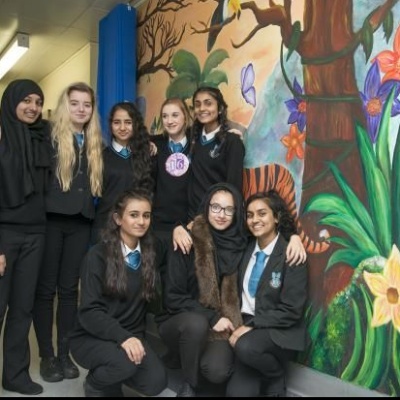 A group of art students from Wexham School joined the chief executive of Frimley Health, the trust that runs the Slough hospital, to unveil their work.
Sir Andrew Morris, chief executive, said: "This really brightens up the hospital and it will be seen by many of our patients and visitors. Thanks must go to the students and staff from Wexham School who made this project possible." The students from the school in Norway Drive watched Sir Andrew unveil the huge jungle-themed mural in a hospital corridor leading to the children's ward, along with Headteacher Lawrence Smith and Art Teacher Nadya Bishop.
The six metre long mural reaches the full height of the hospital corridor. The project took nine months to complete, from the initial drawing to the final painted details. Students volunteered their time after school and during school holidays in order to finish it. Alison Knapp, Head of Art at the school said: "We chose to work with Wexham Park Hospital as it is part of our local community and we wanted to strengthen community ties. "We decided on a jungle theme as it has bright, vibrant colours and we felt it would be appealing to children who were visiting hospital. It also gave our students the opportunity to research the animals which they could incorporate in the mural."