Support for new or trainee teachers  
You are here:
Professional development for staff is well considered and effective. (Ofsted November 2017)
We can and will help you!
Our established induction programme for NQTs, which had a 100% completion and success rate for many years meant we were well-placed to update with the requirements for ECTs in September 2021.
Mr. Joseph Farragher, when speaking of the induction programme that he received at Wexham remarked,
" The induction programme at Wexham is exceptional. The support and training you receive from the induction tutor at the school is outstanding. You receive your own personal experienced mentor who you meet weekly, as well as receiving the constant support from other work colleagues within your department area. These key factors make the transition from being an Overseas Trained Teacher (OTT) and an NQT all the more enjoyable.

I learned so much about the teaching profession in my first year at Wexham and it was down to the support I received".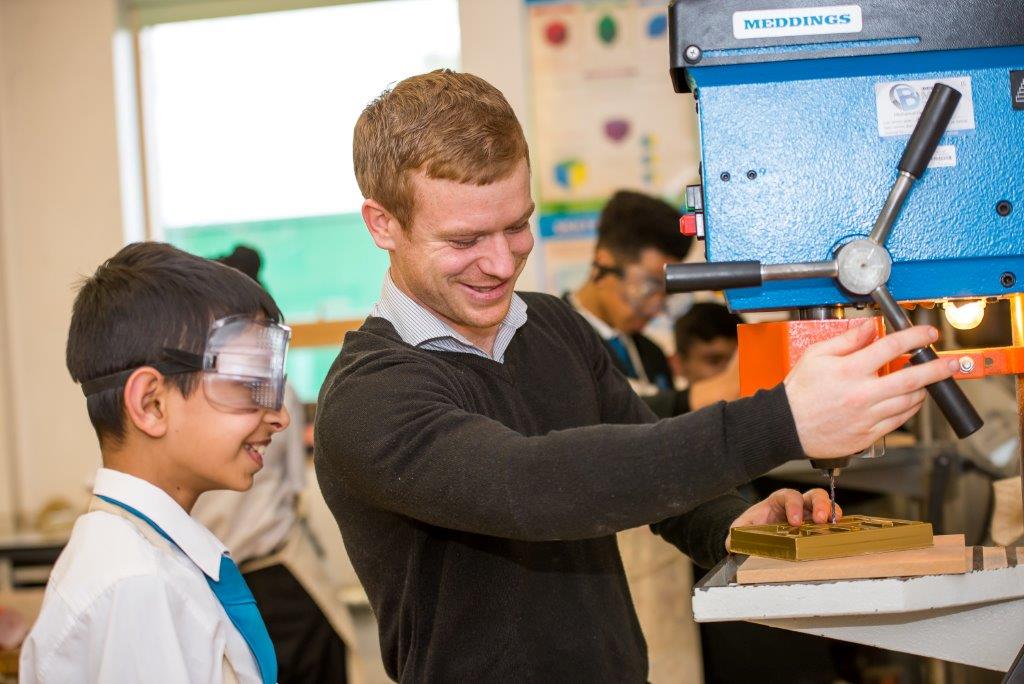 Mr. Farragher working with one of his year 8 students during a Resistant Material lesson – April 2016
A number of our NQTs over the past few years have been Overseas Trained Teachers (OTTs) and we have a wealth of experience in supporting colleagues from a wide range of countries including Australia, Canada and the Republic of Ireland.
We offer a wide range of routes to support graduates getting into the teaching profession including School Direct (Salaried and Unsalaried) and the Assessment Only route to achieving QTS. We invest both time and resources into the development of our training teachers to ensure that they are meeting the National Teaching Standards to ensure our students receive a high quality education.
We also work closely with local Universities supporting trainee teachers in their endeavours to achieve qualified teacher status. We currently work with a range of Universities including The University of Brunel, Reading University, Kingston University and Roehampton University. Our work with the University of Brunel has been recognized and as such we are now a designated 'Enhanced Partnership School'. This status provides us with a range of opportunities including having the opportunity to take students to use the full range of facilities that the University offers.
You will see that Berkshire is an excellent place in which to live, work and enjoy your leisure time. We are proud of our school, where teachers can teach and children want to learn.
As a newly qualified teacher or trainee teacher, you will get the help, training and support you need. At Wexham we offer a wide range of facilities and support, such as:
Permanent contracts will be offered to most of our newly qualified teachers and initial teacher training practitioners, which shows our commitment to our staff.
A fully trained mentor to help you in your early stages of teaching. You will have weekly meetings with your mentor to help your continuing development.
An array of well planned Induction training sessions to continue your development.
Advisers to support you and monitor your progress throughout your first years of teaching.
We can support accreditation of induction towards a higher degree and further qualifications in collaboration with the University of Brunel (we are an enhanced partnership school).